The City of Preston Economic Development Authority (EDA) is committed to the growth and expansion of businesses, jobs and community development in the City of Preston. The EDA can assist with, Loans/Grants, Business Development, and Site Selection. The following is a list with links to business and community tools. For more information, contact Gabby Kinneberg, EDA Director at gkinneberg@prestonmn.org, or 507-765-2153
EDA Board Members:
---
EDA Economic Development Projects
---
Preston Demographics 
Preston, MN has a population of 1,322 with a daytime population of 1728. Median age of 36.9 and a median household income of $49,750.
The median property value in Preston, MN is $185,507, and the home ownership rate is 71.8%. Most people in Preston, MN commute by driving alone, and the average commute time is 24.2 minutes. The average car ownership in Preston, MN is 2 cars per household. City Lines provides transportation to and from Rochester to work at Mayo Clinic, this is a very popular mode of transportation.
The largest universities near Preston, MN are Winona State University, with 2,134 graduates, Saint Mary's University of Minnesota, with 1,788 graduates. Technical colleges include Rochester Community and Technical College, Riverland Community College  in Austin, MN and in Winona, MN, Minnesota State College-Southeast Technical
Preston is one hour from La Crosse, WI, one hour from Winona, MN, one hour from Austin, MN, forty minutes from Rochester, MN and forty minutes from Decorah, IA.
---
Southeast MN Economic Development Study
The Southeastern Minnesota League of Municipalities (SEMLM) in October of 2018, released a study with an updated economic forecast for southeast Minnesota, and options for several major policy shifts to accommodate population and employment growth over the next 25 years. Among the policy options and recommendations are zoning changes to support greater housing production, expanded transportation networks, a regional tourism strategy, immigrant support resources, and programs to increase access to childcare – all designed to grow the region's economic development potential.
The study – the first of its kind in the region – forecasts long-range population, employment, and economic activity in the entire Southeastern Minnesota region, on a county-by-county basis. The region, composed of Dodge, Fillmore, Goodhue, Houston, Mower, Olmsted, Wabasha, and Winona counties, encompasses 77 municipalities, with more than 368,000 residents and 190,000 employees. Here is a  Link to the study
---
Commercial Inventory
Click here for updated Commercial Inventory or email Gabby Kinneberg at gkinneberg@prestonmn.org or call 507-765-2153
---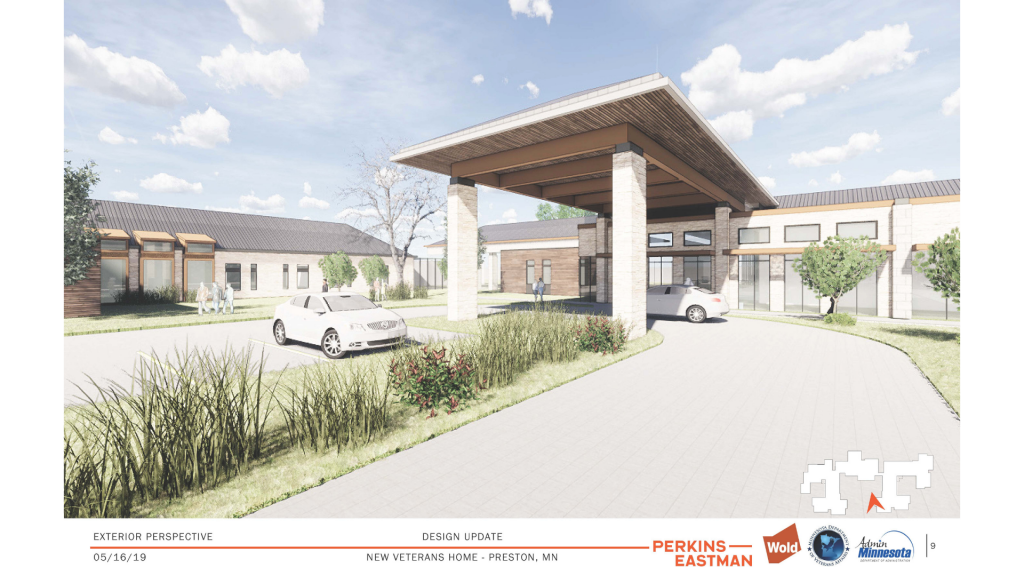 State Veteran Home – Preston
Donations are still being accepted. To donate please contact Preston City Hall at 507-765-2153. The Veteran Home is currently under construction and is slated to open mid-2023.
Follow the Minnesota Department of Veterans Affairs Future Home information by clicking here.
You can follow the Preston Veteran Home Support page by clicking here.
Find more information on the Preston's Veteran Friendly Community Campaign click here.
---
Preston Housing Incentives & Information 
The Preston Economic Development Authority facilitates Housing Incentives to promote new construction and the rehabilitation of existing properties. If you would like to build new or rehab your current home, contact Gabby Kinneberg at 507-765-2153 for more details. The incentive may include energy savings, free utilities, Preston Bucks, golf club memberships, Preston pool passes and permit fee reductions.
---
Preston Commercial Incentive/Improvement Revolving Loan Funds
The Preston Economic Development Authority operates several Revolving Loan Funds for business startups, expansions, and multi-housing and apartment repairs. The incentive is offered through very low interest rates and attractive financing terms.
---
Local Small Cities Development Program Funds
---
PACE: Property Assessed Clean Energy (PACE) program in the state of Minnesota.
This program was created by the state legislature as a funding mechanism for renewable energy and energy efficiency upgrades for businesses and non-profits. Fillmore County passed a joint powers agreement with the St. Paul Port Authority making this program available to Preston businesses. The process generally starts with an energy use assessment. These can be any of the energy efficiency options available through Preston Public Utilities, or some other no-cost options available throughout the state. Here are a couple of links to learn more about the program, and read about some examples of its use in the region: https://www.minnpace.com/
---
Preston Business Expansion/Job Creation Revolving Loan Fund
The Preston EDA also operates a Job Creation loan fund. This fund is used to provide discounted financing for projects that include the creation of jobs and may be offered for those business ventures which appear to need extra financial incentive to make them feasible.
Contact the EDA Director for various other loan programs, SMIF, CEDA, USDA
---
Spare Change Round Up Program Preston Public Utility Customers can round up their utility bill in an effort to raise funds for non-profit groups in the community.  Click Here to Download the Guidelines and Application